HOLD ON!

There are file links on this page that are either broken or relying on an archived link. This applies to the following download link(s):

Please replace them with the latest working links!
Zangief is a character from the Street Fighter series. A Russian wrestler, Zangief is a national hero, earning the title of "The Red Cyclone". Zangief is a true patriot, going to any lengths to defend his country against anyone that threatens it. His signature move is the Spinning Piledriver.
In M.U.G.E.N, Zangief was made by various creators.
Gameplay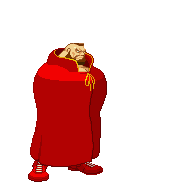 Zangief plays like his Alpha self, a big heavyweight Russian Wrestler who has slow movement speed and air speed. His throws, however, are devastating, and his best moves. His notable throws include the Spinning Piledriver, the famous Back Breaker and the Bear Charge.
He also has moves related to Mike Haggar, like the Spinning Clothesline and a simple Piledriver performed in the air.
Zangief is a 6-button character who lives up to his nickname, The Red Cyclone. Getting close to him can result in being caught in one of his powerful grapples that will surely take down a lot of the opponent's health. However, he has no projectile moves of his own, so playing smart with attacks that cover a long range is key to defeating him, as well as using characters that are faster than Zangief, who is naturally slow.
Videos