Not to be confused with Yukari.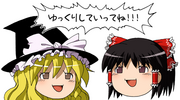 Yukkuri shiteitte ne!!! (ゆっくりしていってね!!!, loosely translated in english as "Take it Easy!") is an internet meme involving giant, disfigured heads of various Touhou Project characters.
The meme originated from 2ch some time during late 2007 when an anonymous user attempted to create Shift JIS art of Reimu Hakurei and Marisa Kirisame. Although the image failed horribly, another anonymous user found it to be humorous, and used this image as a base to draw the original yukkuri image. Since then, many artists and writers of Touhou Project fanworks have incorporated yukkuris into their works, some of them even going as far as to have the yukkuri versions of characters interact with their original counterparts. In most works, they are often depicted as incredibly stupid, and about the same size and weight as a basketball. Due to the fact that they bleed bean paste instead of blood, they are also depicted as edible livestock, which is also referenced in a Hatsune Miku song.[1]
In M.U.G.E.N, yukkuri versions of various Touhou Project characters exist. Yukkuri versions of characters outside of Touhou Project also exist.
List of Characters with Yukkuri versions
References