Yui Kutuna

Creator(s)

ZSM
nuuType

Download

Origin

Vanguard Princess
Yui Kutuna is the 107th generation successor to the Kutuna-musou school of swordplay. Yui wields the ancient divine sword Sakuya, reforged after the Astral Impact. She searches the battlegrounds for her missing older sister Haruka. 
In M.U.G.E.N, Yui Kutuna has been made by ZSM and nuuType.
ZSM's version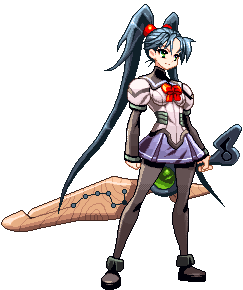 Yui is a character who melee fights only. She has only a single Super who costs her entire energy, but her power bar reloads fast every time it strikes her opponent. During some moves, petals can appears and is needing for Hizakura Eye. She attacks together with an assist among 4 others chooses before the match, the player can use the attacks of the assist by using (A)

and the direction arrows (as long as the support bar is complete enough, she reloads automatically but decreases if she is hit while guarding), furthermore she cannot be hurt by the opponent.
2 different types of modes exist; "Original" and "Arrange". Her attack speed is increased in arrange mode.
Her A.I. is brutal, even spamming projectiles does not work against her (since she constantly blocks and her assist counteres the projectile, which does not hurt Yui).
Stats
Movelist
Hovering the mouse cursor over the Command Input icons will display text that refers to the inputs set in M.U.G.E.N's Key Config.
Icons encased in square brackets [

] require the respective button(s) to be held down. Hovering the mouse cursor over the icon displays the hold duration if applicable.
Specials
Name
Command Input
Properties

| | | |
| --- | --- | --- |
| Hizakura Eye | | Requires petals |
Name
Command Input
Properties
Name
Command Input
Properties

| | | |
| --- | --- | --- |
| Wind God Two Step | | |
Name
Command Input
Properties

| | | |
| --- | --- | --- |
| Blazing Gale | | |
Hypers
Name
Command Input
Properties

| | | |
| --- | --- | --- |
| Blossoming Thunder | + | Uses 3000 Power |
Videos