White Rock Shooter is the main antagonist from the action RPG game Black★Rock Shooter: The Game.
She is an alien who came to Earth disguised as a human under the name Sing Love, she was become a famous singer and was popular in San Francisco and New York city before the alien invasion that decimated most of the Earth and the human population. She has worked and participated in human cloning with Professor Gibson, although the alien invasion and her clones created were part of her plan, with her ultimate goal being to fight her perfect clone. White Rock Shooter fights with a giant scythe called "White Scythe" and, like Black Rock Shooter, a Rock Cannon.
In M.U.G.E.N, White Rock Shooter has been made by Kel_ThuzaD.
Kel_ThuzaD's version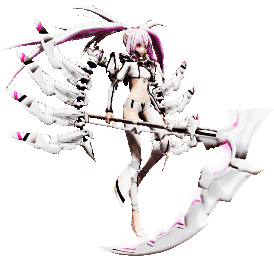 Ad blocker interference detected!
Wikia is a free-to-use site that makes money from advertising. We have a modified experience for viewers using ad blockers

Wikia is not accessible if you've made further modifications. Remove the custom ad blocker rule(s) and the page will load as expected.