This article is in need of improvement!

Sentence structure needs heavily improving.
Move properties need adding.
There are more categories that apply to this character that what is currently listed.

Please help us rectify this!
This Vincent uses attacks that are long in range, perhaps too long. While this Vincent may be focused on keep away or trap playstyles, many serious flaws plague Vincent, including easy infinites, over expanded hitboxes, numerous unpunishable moves, and fullscreen Normals that can easily keep an opponent in blockstun.
Vincent Valentine (

HD_VincentValentine_beta

)



Creator

Download

Resolution

High
Gameplay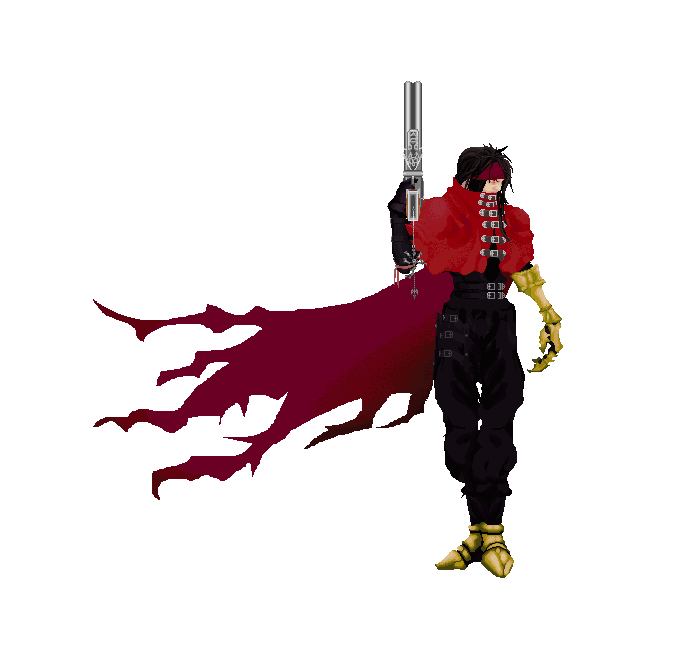 This version of Vincent has an oddly slow jump and walk speed. This character uses a six button set which excludes the start button. Following a super jump, this Vincent can air jump an infinite amount of times. Besides jumping, this Vincent also has a remarkably high amount of air dashes. There is a usable parrying system available with this character that is quite effective when avoiding close range attackers.
Integrated into this character's taunt is a command list, which the A.I. doesn't activate when in combat. This Vincent's playstyle is very similar to Marvel vs Capcom and Marvel vs Capcom 2. Falling from jumps with this character is more accurately described as gliding. This Vincent has mostly long ranged attacks that are the result of constant pistol firing, so you'll want to attack with him from a distance and close range when fighting the A.I. Even though he's a long distance fighter, he still has a plethora of useful physical attacks to engage enemies that are close. His physical attacks are comprised of claw swipes, round-house kicks, and gun butts. This character does not have any grabs but the run ability allows Vincent to briefly move to the other side of the opponent. Vincent uses a custom targeting crosshair during gun attacks that are similar to the first person shooting segments of Dirge of Cerberus.
However, this version of Vincent suffers from a number of issues. Hitbox size and positioning are inconsistent on many of Vincent's animations, in some cases leading to invincibility on certain parts of Vincent's body where invincibility should not exist. Many of Vincent's attack hitboxes also have exceedingly high priority, misaligned hitsparks, and fast startup and/or recovery time, making many attacks safe and unpunishable, and in some cases leading to many infinites. Several sprites are also missing, causing Vincent to disappear when hit by certain attacks, notably those with custom hitstates.
The AI is mediocre with no opponent altering coding or status buffs yet this version will often times keep distance from the opponent, instinctively. This Vincent has two Hypers and two specials, excluding the pop-up. This character is a beta release and may not link all combos properly.
Stats
Movelist
Hovering the mouse cursor over the Command Input icons will display text that refers to the inputs set in M.U.G.E.N's Key Config.
Icons encased in square brackets [

] require the respective button(s) to be held down. Hovering the mouse cursor over the icon displays the hold duration if applicable.
Specials
Name
Command Input
Properties
Name
Command Input
Properties
Hypers
Name
Command Input
Properties
Name
Command Input
Properties
Palette Gallery
| | | |
| --- | --- | --- |
| | | |
| HD_DEFAULT | HD_GRAPHIC | HD_RETRO |
| | | |
| HD_COMPLETE | HD_BLACK | |
Victory quotes
General
"

Too much hope is the opposite of despair...

"
"

...An overpowering love may consume you in the end.

"
"

Is this the power of mako?

"
"

You...What are you doing here?

"
"

Hearing your stories has added upon me yet another sin.

"
"

More nightmares will come to me now.

"
"

I was frozen in time, but i feel as if my time is just beginning...

"
"

...I don't care what you are doing, so much as the idiotic way you're doing it.

"
"

I have nothing to say.

"
"

You're just another death.

"
"

Dying is where your jouney starts.

"
"

This protomateria is mine alone.

"
"

Stop delaying the inevitable.

"
"

You're talented but inexperienced.

"
"

I won't see you on the other side.

"
Videos
Edits
This character has not been edited.
Ad blocker interference detected!
Wikia is a free-to-use site that makes money from advertising. We have a modified experience for viewers using ad blockers

Wikia is not accessible if you've made further modifications. Remove the custom ad blocker rule(s) and the page will load as expected.