One of the earliest versions of Venom to appear in M.U.G.E.N was made by the late Juan Carlos. It is quite buggy like many earlier characters, but still works and plays decent today.
Venom (

Venom

)



Creator

Juan Carlos

Download

Resolution

Low
Gameplay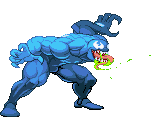 Venom is a 6-button character which follows the first "Marvel vs. Capcom" game in terms of gameplay. This Venom has noticeable bugs but overall has a fun style of gameplay. It has 2 Hypers, one of which rarely misses or fails. During Hypers and its Web Throw attacks, it gains invincibility due to lack of collision boxes during those moves.
The A.I. is around average but slow, having a predicable and slow path which average M.U.G.E.N characters can handle. Venom's main strength is its Venom Web Hyper which almost never misses a target; except targets which cannot be grabbed, but also can be ineffective against smaller targets. Its Web Throw and Venom Web can be a good way to take down some cheap characters as it has high priority and does decent damage. The former move also works differently than the source game, with the (Y)

version aiming up instead of diagonally and the (Z)

version aiming diagonally instead of upwards.
Venom has some bugs such as its Hyper background appearing randomly during falls and being able to jump up when K.O.ed during a 2 vs 2 battle. Its sprites will also appear glitchy in M.U.G.E.N 1.1 and Fighter Factory (especially the latter).
In addition, when holding start and selecting Venom, you will gain access to its Hyper Venom/Carnage mode. It loses access to two of its specials and is less defensive, but makes up for it in terms of speed and attack power.
Stats
Movelist
Hovering the mouse cursor over the Command Input icons will display text that refers to the inputs set in M.U.G.E.N's Key Config.
Icons encased in square brackets [

] require the respective button(s) to be held down. Hovering the mouse cursor over the icon displays the hold duration if applicable.
Specials
Name
Command Input
Properties

| | | |
| --- | --- | --- |
| Venom Fang | | Cannot be used in Carnage mode |
Name
Command Input
Properties

Web Throw
shoots forward
shoots up
shoots diagonally
Name
Command Input
Properties

| | | |
| --- | --- | --- |
| Venom Rush | | |
Name
Command Input
Properties
Hypers
Name
Command Input
Properties

| | | |
| --- | --- | --- |
| Venom Web | | Uses 1000 power |
Name
Command Input
Properties

| | | |
| --- | --- | --- |
| Death Bite | | Uses 1000 power |
Palette Gallery
| | | |
| --- | --- | --- |
| | | |
| venom | simbionte | venom2 |
| | | |
| venom3 | black | darkblue |
| | | |
| carnage | venom4 | clowncarnage |
| | | |
| carnageorange | green | greyblue |
Victory quotes
This character does not have any victory quotes, meaning it uses the screenpack's default.
Videos
Edits
This character has not been edited.
Ad blocker interference detected!
Wikia is a free-to-use site that makes money from advertising. We have a modified experience for viewers using ad blockers

Wikia is not accessible if you've made further modifications. Remove the custom ad blocker rule(s) and the page will load as expected.