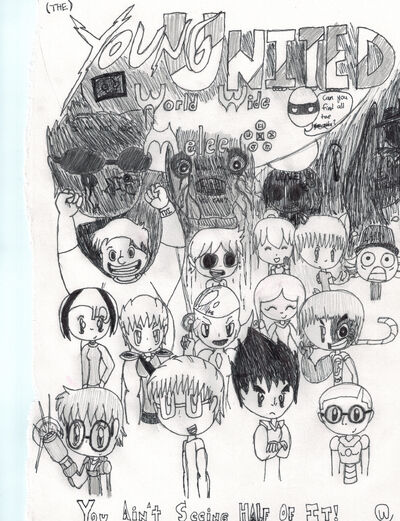 Today calls for a special teaser! This drawing is of the game with a few of the game's characters! And not only that, but this marvelous drawing has it's secrets! Can you find them all? Also, you may run into some fimiliar faces! (And VERY new ones, too!!) Anyways, like the poster says, you haven't seen half of it yet! 
Characters seen in the Poster
ON THE LOGO
Wade (Because he's just that awesome)
EDIT: I didn't write that.
WadeEDIT: "Oh; yes you did."
LEFT
Gwen
Owen
William
???
???

MIDDLE
Thomas
Sol
Frieja
Scott Pilgrim
Springtrap

RIGHT
Cameron
Wilson A. Taffy
???
???
???
???
???
???

And to hype you all up...
Challenge Time!
List of things to look for in the poster!
Hidden Messages!
Brand new characters!
easter eggs!
Hidden subjects...

Can you find them all? 
Ad blocker interference detected!
Wikia is a free-to-use site that makes money from advertising. We have a modified experience for viewers using ad blockers

Wikia is not accessible if you've made further modifications. Remove the custom ad blocker rule(s) and the page will load as expected.