Continuing from part one of the direct, I have done a TON of edits. What are those edits? What is the goody goody? Find out RIGHT HERE! RIGHT NOW! (For Part 1: http://mugen.wikia.com/wiki/User_blog:Windindi/Nintendo_vs._CAPCOM_Direct)

Luigi, the sloppy second of the Mushroom Kingdom, but what makes him SO awesome? Well...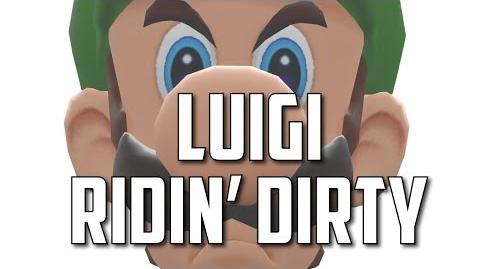 In Nintendo vs. CAPCOM, you can use Luigi's pop cultured Death Stare as a stun! It's REALLY awesome for combo purposes. Also, this is a taunt.
Also, some REAALLLLLY AWESOME NEWS!!! I HAVE BEEN WAITING TO REVEAL THIS FOR A WHILE AND I'M SO PUMMPED!!!

Here is a display of Yellow from
Pokémon Adventures
! and YES, SHE IS IN Nintendo vs. CAPCOM!! But as her own character?! Well, no. She as well as Red (You can choose who) will be alongside Pikachu! SO when you go to the character selection screen, you will see Red and Yellow as their own characters! But Pikachu will still be the character being played.
Because Pikachu was so limited, I decided that Red and Yellow should make up for that, but Pikachu's not the only one! In fact, Yugi from Yu-Gi-Oh! will be with Dark Magician Girl! But just like before, she will be the character you are playing, not Yugi. Red, Yellow, and Yugi are background characters who help out on assist as well as special attacks! So watch yourself!
THE FINAL CHARACTERS DECIDED!!
In all honesty, these are the final characters to Nintendo vs. CAPCOM...
Amaterasu Okami, Dante, and Sakura for CAPCOM
Yellow, Mr. Game & Watch, and Lucas for Nintendo
And another surprise... Shadow The Hedgehog AND Solid Snake will be joining Nintendo vs. CAPCOM, but as a result, there will be NO MORE CHARACTERS ADDED TO NINTENDO VS. CAPCOM!!
The final roster is...
Mario 
Luigi 
Koopa(Bowser) 
Donkey Kong 
Link 
Kirby 
Meta-Knight 
King-DeDeDe 
Red and Pikachu 
Yellow and Pikachu 
Lucario 
Mewtwo 
Samus-Aran 
Zero-Suit Samus 
Ridley 
Ness
Lucas
Fox-McCloud 
Captain Falcon 
Mr. G&W
Ryu 
Ken 
Blanka 
Sakura
Chun-Li 
Zangief 
M-Bison 
Akuma 
Strider-Hiryu 
Arthur
Mega-Man 
Tron-Bonne 
Zero 
Roll 
Mega-Man-Volnutt 
Jill-Valentine 
Dante
Viewtiful-Joe 
Captain Commando 
Amaterasu Okami
Sonic The Hedgehog 
Shadow The Hedgehog
Dark Magician Girl 
Earthworm Jim 
Hatsune Miku 
Solid Snake

My apologies, but this is the final roster, and I extended the roster like crazy, and due to that, the game is going to be longer in development. But because of you all, I can deal with the extra work, and I thank you all for your support and how awesome you all have been. It almost makes me cry knowing how awesome this community has been for SO many years. I have known you all for five years, and I followed my dream to make a game like this, and you were my inspiration; thank you all, all mugenites everywhere. Without you, this wouldn't be possible.

END OF DIRECT
Ad blocker interference detected!
Wikia is a free-to-use site that makes money from advertising. We have a modified experience for viewers using ad blockers

Wikia is not accessible if you've made further modifications. Remove the custom ad blocker rule(s) and the page will load as expected.