Hey there guys, I would like to present my latest and best creation, Barack Obama:
I was inspired to make this because there are no Obamas for MUGEN and also inspired by Most_Mysterous's Omega Tiger Woods.
As seen from my roster, Discord was really Barack Obama, I was fooling all of you...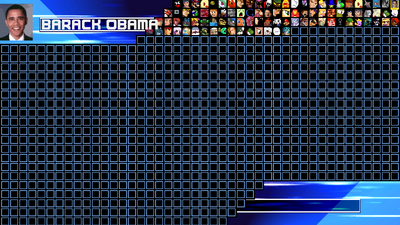 Barack seen from the VS screen.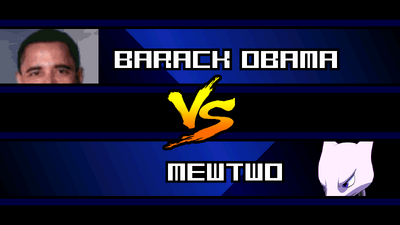 Again, I plan on redoing the sprites sometime soon.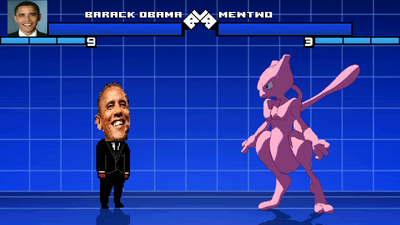 Like I said before, this character is a parody, as he can summon Dio Brando to crush people.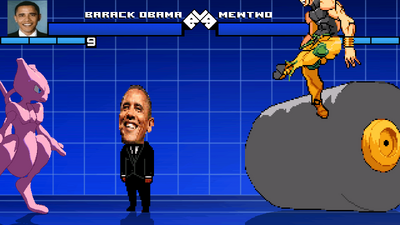 Our president in MUGEN?! You don't say? This character is basicly a parody to a lot of characters and creators, most noticeable would be Warner and Omega Tom Hanks. Also, this character is a spriteswap of Omega Tom Hanks, only with alot of extra features added into it, he is defeatable but still very cheap.
This character is best used for beatdown videos, or just random battles or even survival.
What? You want him for your roster? Well TO BAD! Nah, just kidding.
Heres the download, really hope you enjoy him:
When you download, make sure you read the readme in the character folder for all the info.
Also, please post feedback here if you want, or just post on my talk page if you have a question.
Thanks! -God Alosson
Ad blocker interference detected!
Wikia is a free-to-use site that makes money from advertising. We have a modified experience for viewers using ad blockers

Wikia is not accessible if you've made further modifications. Remove the custom ad blocker rule(s) and the page will load as expected.