Freddy Fazbear
Hello again, and sorry for my Bad English. -_-
I know most of you probably do not like me very much, for this reason, I will do a favor to you and never make any char or stage in MUGEN again. 
But before that, I'll finish a char that I really wanted to see in mugen: 
Freddy Fazbear (Five Nights at Freddy's) 
Sprites
I will make the Sprites on "Garrys Mod" 
And I promise that the Char will not be so bad, but if you want to edit Freddy with a better code, fell free to edit! :)
Standing Pose:

JumpScares
I want to make a version of Freddy with jumpscares and one without Jumpscares , the version with Jumpscares will have a Golden Freddy Portrait , but I cant get the codes to put Jumpscares on Freddy... ;-;
I will need HELP ;-;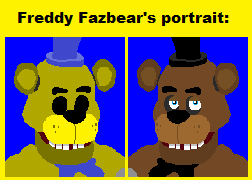 Video:
Video 1: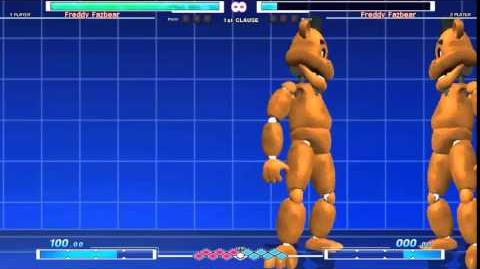 Video 2 (Update):
Bonnie the Bunny Stricker
I made some Bonnie the Bunny stricker sprites, but i cant get the code for strickers because i suck at coding ;-;
If you want to edit Freddy, Take that Bonnie Sprites to put as a Stricker if you want:
Ad blocker interference detected!
Wikia is a free-to-use site that makes money from advertising. We have a modified experience for viewers using ad blockers

Wikia is not accessible if you've made further modifications. Remove the custom ad blocker rule(s) and the page will load as expected.