Here is all the Mugen Characters i have in my Roster: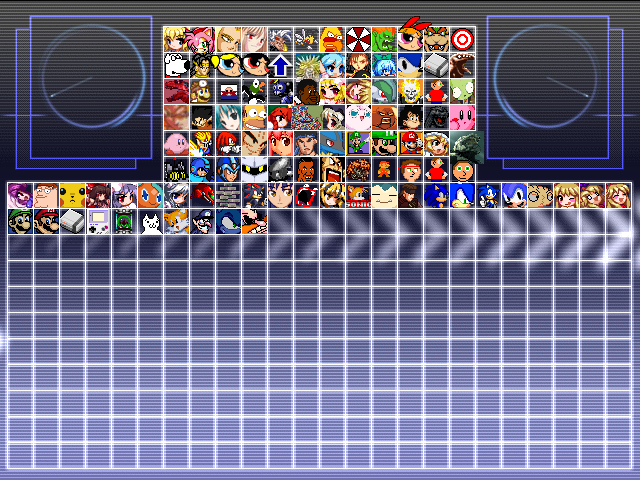 Characters:
Alice Margatroid
Amy Rose
Android 18
Arcueid Brunestud
Baby Vegeta
Beedrill
Big Chicken
BioHazard
Blanka
Blossom
Bowser
Break The Targets
Brian Griffin
Broly
Bubbles
Buttercup
Catwalk
Chibi Nightmare Broly
Chirno
Chun Li
Cirno
Classic Sonic
Contra
Crocomire
Diablo
Dr. Mario
Dr. Robotnik
Duck Hunt
Eggmans Robots
Fat Albert
Flandre Scarlet
Fullmoon_Suika
Gallade
Ghost Rider
Giant Nick (considered W.I.P.)
Gir
Gogeta
Goku
HATSUNE MIKU
Homer Simpson
Hong Meiling
Hotel Mario
Igniz Scarlet
Jigglypuff
Juggernaut
Kid Goku
KING GODZILLA
Kirby (Claymizer)
Kirby (Bane84)
Knuckle Joe
Knuckles
Krillin
Kung Fu Girl
Kung Fu Man 09
Lucario
Luigi
Mama Luigi
Mario
Marisa Kirisame
Master Chief
Mecha-Birdo
Megaman
MegaMan X
Meta-Knight
Metal Mario
Mike Tyson
Mother Brain
Mr.Satan
NES Mario
Nick Cox (kfm clone) (W.I.P.)
Nick Cox (Sonic Variant)
Nick Cox (Punch-Out Variant)
Patchouli Knowledge
Peter Griffin (Warner)
Pikachu
Remilia Scarlet
Rotom (GarchompMatt)
Sakuya Izayoi
Samus Aran
Shadow
Shelly
SHOOP DA WHOOP (defeatable)
shou toramaru
Sky Chase
Snorlax
Solid Snake
Sonic (Claymizer)
Sonic (MGSSJ2)
Sonic (EasyChar)
Sonic 2 Style Sonic
Stewie
Suika
Suika Ibuki
Suika_pon
Super Luigi (ShinRyoga)
Super Mario (ShinRyoga)
Super Mario Bros.
Super Mario Land
Super Metroid
Syobon
Tails
Waluigi
WereSonic
YTP Robotnik
Ad blocker interference detected!
Wikia is a free-to-use site that makes money from advertising. We have a modified experience for viewers using ad blockers

Wikia is not accessible if you've made further modifications. Remove the custom ad blocker rule(s) and the page will load as expected.