I have made a sprite edit to HedgehogMac's Fluttershy and put Fighting is Magic sprites in so it can look better. 
Anyway here it is - http://www.mediafire.com/download/r9y51u5bthugmkn/fluttershy.zip
(Also thanks to RockRage for the Fluttershy sprites)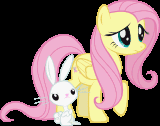 (Edit - Updated for Animations :D )
Ad blocker interference detected!
Wikia is a free-to-use site that makes money from advertising. We have a modified experience for viewers using ad blockers

Wikia is not accessible if you've made further modifications. Remove the custom ad blocker rule(s) and the page will load as expected.