I am working on an edit of RistaR87's Cartoon M.U.G.E.N! It will have new characters, new stages, and new music! More than half of all the characters have been replaced. The last ones standing are Blossom, Bubbles, Buttercup, Patrick, Krusty, Bartman, Mr. Incredible, and Onix. If you would like to see a roster, here it is: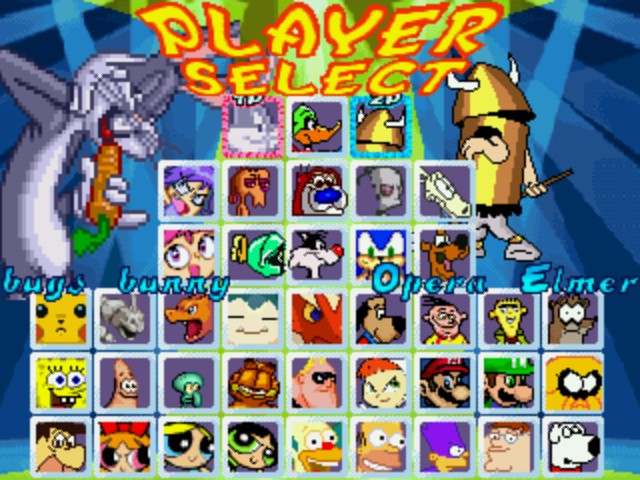 (Characters below:Billy, Bender, Sniffles, Toothy, Pop, Chowder, Flapjack, Popeye)
If you would like some changes, please leave a comment below.
Update: Dang it! My old laptop broke! Since I have a new one, I'll have to remake it! Don't worry. I got the unofficial release date. And that is June 1, 2012. Remember that it is unofficial, so don't complain if it's not released. And thank you everybody for making this the most commented blog post!
Update 2: I got the roster ready. Now to just set it up.
Confirmed Characters
Looney Tunes:
Bugs Bunny (Storm0062)
Sylvester (Speedy9199)
Taz (Aperson98)
Marvin (DDR)
Opera Elmer (DDR)
Hi Hi Puffy Ami Yumi:
Series has been cut from the game.
Dexter's Laboratory:
Dexter (Placemario)
Mandark (Placemario)
Ren and Stimpy Show:
Ren (Wlanman)
Stimpy (Wlanman)
Invader Zim:
Zim (Wlanman)
Dib (If finished early) (Wlanman)
Rocko's Modern Life:
The Adventures Of Sonic The Hedgehog:
Classic Sonic (Prowlerx083)
Scooby Doo:
Scooby Doo (Beanfan112)
Shaggy (If finished early) (Beanfan112)
Daphne Blake (If finished early) (Beanfan112)
Pokemon:
Underdog:
Who do you think? It's obviously Underdog (DDR).
Ed, Edd'n Eddy:
Ed (Stickma14)
Eddy (Stickma14)
Regular Show:
Spongebob Squarepants:
Spongebob (Placemario)
Patrick (Slkmugen)
The Garfield Show:
The Incredibles:
Series has been cut from the game.
Atomic Betty:
Series had been cut from the game.
Super Mario World Cartoon:
Mario (SM853)
Mama Luigi (Warner)
Adventure Time with Finn and Jake:
The Flintstones:
Pedro (Fred Flintstone) (Warner)
The Power Puff Girls:
Blossom (OmegaPhsyco)
Bubbles (OmegaPhsyco)
Buttercup (OmegaPhsyco)
The Simpsons:
Homer (Judgespear)
Krusty (Warner)
Marge Simpson (Warner)
Family Guy:
Peter (Judgespear)
Brian ([N]famous)
Big Chicken (Warner)
Futurama:
Bender (Warner)
Leela (Warner
The Grim Adventures of Billy and Mandy':
Series has been cut from the game.
Fat Albert and the Cosby Kids:
Happy Tree Friends:
Chowder
Pink Panther and Pals:
Popeye:
Do I have to tell you? It's Popeye (DDR).
Beavis and Butthead:
South Park:
Eric Cartman (Andysmugen)
I will confirm more characters later. In the mean time, request some characters that I might want to confirm. Remember that I will not accept Anime (Naruto, DBZ, etc.). Pokemon is good enough. And claymation shows (Wallace and Gromit, Pingu etc.) is not allowed. Also, this game is meant to be a game where you kill your hated cartoons, play as your favorite cartoons, and have fun.
UPDATE! I AM NO LONGER A LAZY SNORLAX! I AM NOW AN ACTIVE CHARMANDER! I WILL FINISH THIS GAME IN ONLY A FEW WEEKS! Most likely...heh..heh..
Ad blocker interference detected!
Wikia is a free-to-use site that makes money from advertising. We have a modified experience for viewers using ad blockers

Wikia is not accessible if you've made further modifications. Remove the custom ad blocker rule(s) and the page will load as expected.