This autumn, I will be releasing Mung Daal next.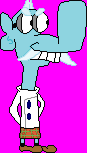 Mung Daal was a striker of FelixMario2011's Chowder and so, I decide to make him for MUGEN.
Here's the movelist.
Helpers:
Truffles (Using a frying pan to attack)
Specials:
Sliced Fingerdingies throw (Idea by TIS2012) Knife toss
Hypers:
Big Hand Punch (Inspired from the episode "Creme Puff Hands") Meach Attack (Inspired from the episode "Meach Harvest") Cinnamini Sucker (Inspired from the episode "Cinnamini Monster")
Palletes:
If you were a Chowder fan, just comment if you like Mung to be on MUGEN. That would be happy to make him.
Thank you.
Ad blocker interference detected!
Wikia is a free-to-use site that makes money from advertising. We have a modified experience for viewers using ad blockers

Wikia is not accessible if you've made further modifications. Remove the custom ad blocker rule(s) and the page will load as expected.