Hey everyone! It has been a while since I've put up some downloads, hasn't it? This time, I bring you not two stages, but five stages that come in one pack! The stages are:
Airport inside
Airport outside
Glacier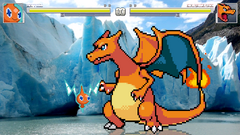 Road to hell
Skate or die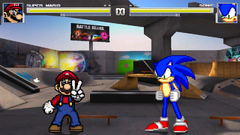 All of these stages are original with the exception of Skate or die, as that is from Battle bears gold. In one screenshot, you saw Rotom fight Mystervores98s Charizard. While that is his Charizard, it is actually an edit I made called Charizard plus. Basically, this version is for those who want to use Mystervores Charizard but aren't particularly interested in vore. While they could just remove the swallow attack, I noticed some features in the character that are missing or need to be fixed, another reason why I am making this edit. This edit adds more attack/hit collisions where needed, puts in some extra palettes and removes the attack collision from the characters swallow attack, so he cannot swallow his opponents. I will be updating this character with more in the future, such as more sprites and attacks. That is all for this load off, but I will be putting more up in time.
Downloads
Stage pack 1: http://www.mediafire.com/download/e8jg47q6qscp44c/Stage_pack_1_(mugen_1.0).zip
Charizard+ 1.0: http://www.mediafire.com/download/218bdy5u9jxw07w/Charizard_plus_version_1.0.zip
Alternate links
If you use WinRAR or the above do not work, use these links.
Stage pack 1: http://www.mediafire.com/download/6f6du2rc388vvzu/Stage_pack_1_(mugen_1.0_(alt_download)).rar
Charizard+ 1.0: http://www.mediafire.com/download/j3t5bko31evguxv/Charizard_plus_version_1.0_(alt_download).rar
Ad blocker interference detected!
Wikia is a free-to-use site that makes money from advertising. We have a modified experience for viewers using ad blockers

Wikia is not accessible if you've made further modifications. Remove the custom ad blocker rule(s) and the page will load as expected.