Hey everyone, just want to give a brief update on the progress so far on Darwin. I have his basics done and I'm currently working on his hyper moves right now. I still need to plan out his specials(only have finished one which is his fireball projectile). So feel free to give any suggestions for some super moves. Also along the way I will be aiming in finishing Gumball and give him his two level 3 hypers.
His planned hypers will be
Paintball Shots(Lvl 1 hyper, similar to Gumball)
Karate kicks(lvl 1 hyper)
Rapid Fireballs(lvl 2 hyper)
Hyper Sneeze(lvl 2 hyper)
Let It all out(lvl 3, blows huge bubble and explodes when opponent hits it)
Mocking Bird Call(lvl 3,Darwin whistles and a barrage of mocking birds attack)
Here is some ofmy progress with some basic attack animations:
Walk
First Intro/vs Gumball Intro
2nd Intro(season 1 design to season 2 design)

Light Punch(slap)
Medium Punch
Heavy Punch
Light Kick

Medium Kick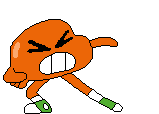 Heavy Kick
Ad blocker interference detected!
Wikia is a free-to-use site that makes money from advertising. We have a modified experience for viewers using ad blockers

Wikia is not accessible if you've made further modifications. Remove the custom ad blocker rule(s) and the page will load as expected.