Hey all, bet you were all wondering where i have disappeared to since April. Just been quite busy with some things in life, but anyways i'm back and am ready to get back into finishing off my Gumball character.
I'll be honest not much has been done, although I have finished an assist attack, some new animations(for example his rolling back and forward), 2 special intros, one vs himself and the other when he faces Mario, Luigi, or Bowser. 3 new palettes (2 courtesy of WaluigiKing, and a ghost palette where he'll be transparent).
As for what needs to be done, still trying to think of 3 more special moves(suggestions welcome), 3 more supers( I have them planned out but will take some time to get done lol), and some normal intros. 
Also I feel that his AI is quite weak, and i'm not really a guy who's good at that thing. So If anyone is good at making AI better feel free to help me out :) I should be on and off on this site more often but I'll get your comments and reply back.
Here's some Animations to show:
Mario Intro
Darwin Assist



Ghost Palette with Transparency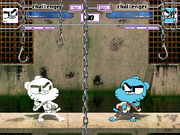 Sprite of Possessed Gumball
Ad blocker interference detected!
Wikia is a free-to-use site that makes money from advertising. We have a modified experience for viewers using ad blockers

Wikia is not accessible if you've made further modifications. Remove the custom ad blocker rule(s) and the page will load as expected.