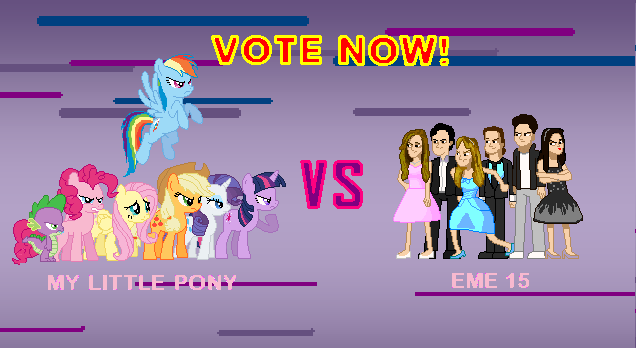 Hey, guys! i'm Jarquin10, i realese the vote in youtube, i publish in facebook and now in Mugen database, 
Please guys! Vote now! Ponies and Spike are against the band of mexican teens,
Rules
We want bronies and maybe not bronies
No EME 15 fans allowed
Do not insult or kill Jarquin10
The video Winner will realese in February 5 on Youtube.
No trolls allowed
I tell a secret, i'm a brony, but i hate EME 15
What is better? My Little Pony or EME 15?, 
My Little Pony: 11 (8 more on facebook) (6 more on Youtube) in total are 24 (yey! winner!)
EME 15: 1 (8 in Youtube) (1 in facebook) in total are 10
Leave a comment :)
Ad blocker interference detected!
Wikia is a free-to-use site that makes money from advertising. We have a modified experience for viewers using ad blockers

Wikia is not accessible if you've made further modifications. Remove the custom ad blocker rule(s) and the page will load as expected.