Greetings, I'm going to make an archive of "training room"-themed M.U.G.E.N stages, and I want you to help me. You can help by posting a not mentioned stage in the comments section. Kinda similar to this: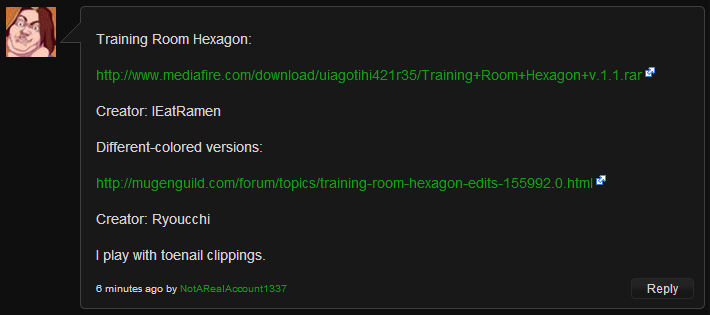 Okay, the archive starts here.
Original Training Rooms
Elecbyte's Training Room
Josh Geary's Edits
Training Room Hexagon
IEatRamen's Training Room Hexagon V1
Ryoucchi's Training Room Hexagon Edits
Singular Stages (Stages with no edits)
EXShadow's "Special Training Room"
Video Game-based Training Rooms
Street Fighter IV Training Room (Old download link; new download link needed)
Capcom VS SNK 2 Training Room (Right Click, Save Target As)
Marvel VS Capcom 2 Training Room
---
That's the end of the archive for a while. Remember to leave links to stages in the comments! Leave a picture if you have to!
Ad blocker interference detected!
Wikia is a free-to-use site that makes money from advertising. We have a modified experience for viewers using ad blockers

Wikia is not accessible if you've made further modifications. Remove the custom ad blocker rule(s) and the page will load as expected.