Toupou

Statut

Active on MUGEN Database

MUGEN Type

MUGEN 1.0

Favorite Characters

The Powerpuff Girls, the Mario brothers, Homer Simpson, Miku Hatsune, Flamme Ametrine, Fliz Emerald and Madoka Kaname

Favorite Stage

Rave On

Current WIP

Miku Zatsune
Hello, I am Toupou and im French.
My favorite pages
Edit
Vocaloid Characters
The Powerpuff Girls Characters
Likes/Dislikes
Edit
Nintendo's consoles
Computer
My favorite characters available in MUGEN
Bad characters + annoying glitch  in MUGEN
Bad contributors that dirty my favorite pages
My M.U.G.E.N Roster
Edit
CharactersEdit
I thank ElJosho1998 who helped me to have more to character slot.
Wanted Stages!Edit
Townsville City by Fenix Azul
Miku Zatsune (with Eljosho1998)
Characters that I waiting
Edit
Ulala and maybe also Pudding from Space Channel 5 (custom or edit sprite 2D with great graphic, a bit like it: [1]).
Samantha Simpson, Clover Ewing and Alexandra Vasquez from Totally Spies (Kula Diamond edit if possible). Request accepted by Alfjarquin!
My Survival's Record
Edit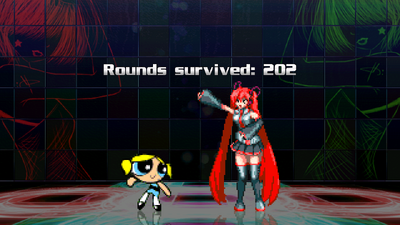 A BIG VICTORY!
Edit