BeanFan112



Name in Real Life:

Unknown

Location:

United Kingdom

Mugen type:

1.0.

Status:

Active

Favorite Video Game:

Mugen, Mario and Sonic the Hedgehog

Favorite TV Show(s):

Scooby-Doo, Mr. Bean, Regular Show, Bear Behaving Badly, Invader Zim, The Ren and Stimpy Show, Rocko's Modern Life, Chowder, The Amazing World of Gumball, Ed, Edd n Eddy, Courage the Cowardly Dog, Dexter's Laboratory, The Big Band Theory, Beavis and Butt-head and more.

Favorite Movie(s):

Mr. Bean's Holiday, Toy Story, Shrek, Madagascar, Rush Hour and more.

Favorite Characters(s):

Scooby-Doo, Shaggy Rogers, Daphne Blake, Mordecai, Rigby, Benson, Pops Maellard, Muscle Man, Hi Five Ghost, Ed, Edd, Eddy, Rolf, Johnny 2x4, Ren Hoek, Stimpy, Gumball Watterson, Darwin Watterson, Nicole Watterson, Finn, Jake, Chowder, Mung Daal, Homer Simpson, Bart Simpson, Marge Simpson, Lisa Simpson, Krusty the Clown, Zim, GIR, Rocko, Heffer Wolfe, Filburt Shelbach, Spunky, Arnold, Gerald, ALF, Mr. Bean, Beavis, Butt-head, Megara, Abby Archer, Yakko Warner, Wakko Warner, Dot Warner, Princess Jasmine, Bugs Bunny, Daffy Duck, Lola Bunny, Nev, Barney Harwood, DangerMouse, Penfold, Count Duckula and more.

Favorite Music(s):

Michael Jackson, The Rolling Stones, Weird Al, Michael Jackson and others.

My Current W.I.P(s):
Hello!
That's why I've never being a M.U.G.E.N fan before.
My Best Friends
Omegabros6
My Enemies
Favourite TV Shows
Scooby-Doo (Old series)
Regular Show
Count Duckula
The Simpsons
The Looney Tunes Show
Adventure Time
Rocko's Modern Life
Roy (CBBC series)
DangerMouse
Futurama
Only Fools and Horses
Animaniacs
Bear Behaving Badly
Ed, Edd n Eddy
Tom and Jerry
ALF (Live-Action series)
Garfield and Friends
Fat Albert and the Cosby Kids
The Young Ones
The Big Band Theory
Cow and Chicken/I Am Weasel
Bottom
Hey Arnold!
CatDog
The Angry Beavers
Kenan and Kel
My Character Releases
Wallace (Wallace and Gromit)
Bully in the Launderette (Mr. Bean)
Scooby Doo (Scooby-Doo) (Version 1.2 coming soon!)
Marge Simpson (The Simpsons) (Version 2.5 coming soon!)
Gromit (Wallace and Gromit)
Shaggy (Scooby-Doo) (Version 2.0 coming soon!)
Muscle Man (Regular Show) (Version 2.5 coming soon!)
Daphne Blake (Scooby-Doo) (Version 2.0 coming soon!)
Dot Warner (Animaniacs)
Princess Jasmine (Disney's Aladdin) (Version 2.0 coming soon!)
Megara (Disney's Hercules) (Version 2 coming soon!)
Lola Bunny (The Looney Tunes Show)
Mung Daal (Chowder)
Yakko Warner (Animaniacs)
Filburt Shelbach (Rocko's Modern Life)
My Edit Characters
Kevin McCallister (Home Alone)
Chowder (Chowder)
My W.I.P Characters
Nicole Watterson (The Amazing World of Gumball) (releasing this late Spring)
My Future W.I.P Characters
Wakko Warner V2 (Animaniacs)
Scooby-Doo (live-action movie version) (Scooby-Doo: Live-Action movie series)
Cow (Cow and Chicken)
Chicken (Cow and Chicken)
Chris Tucker (Rush Hour Series)
Vyvycan (The Young Ones)
Leonard Hofstadter (The Big Band Theory)
Radu Nichifor (Original)
Abby Archer (Grossology)
My Favourite Creators
Characters I'm looking forward to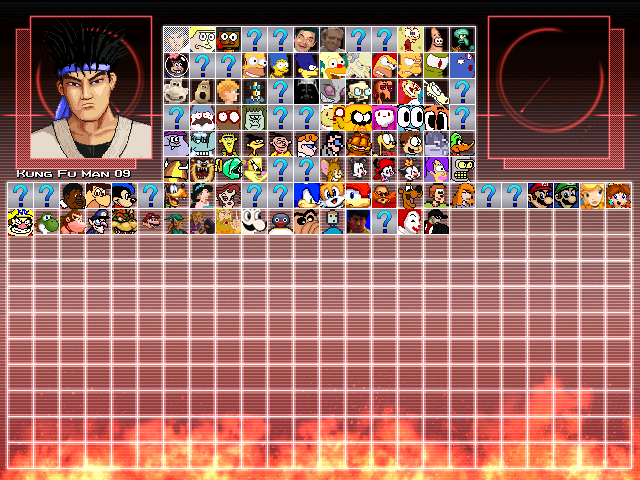 Websites
DeviantART account: http://beanfan112.deviantart.com/
M.U.G.E.N Evolution account: http://mugenevolution.co.uk/Forum/index.php?action=profile;u=4464