This subpage contains any edits of Mega X's version of Toy Chica. What is listed here is limited to what the edits change, meaning information should not be duplicated from the article about the original version outside of the idle animation and portrait, even if they haven't changed.
Golumitu's edit
Toy Chica (

toy_chica

)



Creator

Golumitu

Download

Localcoord

320x240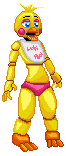 While this edit may seem like it doesn't do much, it actually balances Toy Chica's stats, replaces portraits, and gives it new palettes. Though the character may be balanced, stat wise, it's still quite dangerous when in the hands of the player as its attacks still deal a lot of damage and the character is still perfectly able to combo efficiently.
Stats
Movelist
Unchanged from original version.
Palette Gallery
Victory quotes
General
"

If your looking for my less attractive sister, she isn't here.

"
"

Dine on my oven-backed avian behind.

"
"

I'm not an evil beast. I'm just a lost soul.

"
"

I want to withdraw all my child support

"