Toy Chica is one of the main antagonists from the iconic Five Nights at Freddy's series where she made her debut in Five Nights at Freddy's 2. She is an animatronic chicken dressed in a bib that says "Let's Party!" and has pink undergarments. She also makes an appearance in Five Nights at Freddy's World where she takes the roll as one of the many playable characters in the game.
In M.U.G.E.N, Toy Chica has been made once by Mega_X where it uses Kung Fu Man as a base and attacks using cupcakes and lightning based attacks. Golumitu has made an edit to it that nerfs its Life and attack and edits its palettes, winquotes, and gives it new portraits.
Mega_X's version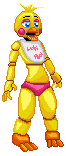 Here to replace the old, tattered animatronics of yesteryear is Toy Chica, sporting a shiny new set of custom sprites. It may be tough with its lightning-based attacks, but Toy Chica isn't smart when they're on a low difficulty...or any difficulty for that matter.