Toru Kugami



Creator(s)

Daniel9999999
e510 (AI patch)

Download

Origin

Crimson Alive: Extreme Encounter
Toru Kugami is a character from Crimson Alive: Extreme Encounter. She is in a secret spy organization that is part of "Ouroboros." Her mission is to annihilate any irregular threats. She is faithful to her duties, and will immediately take action.
In M.U.G.E.N, she has been made by Daniel9999999.
Gameplay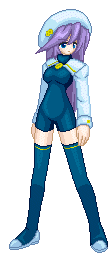 Toru's sprites are in Hi-Res, and have multiple combo chain moves. Toru makes fire effects whenever she attacks and can use one fire special move using (C)

. Her AI is normal and not too hard to beat when faced.
Videos