Tiki



Creator(s)

UJI

Download

Origin

Fire Emblem
Tiki is a character from the Fire Emblem series, first appearing in Fire Emblem: Ankoku Ryū to Hikari no Tsurugi.
She is the daughter of Naga, the Divine Dragon, and is often known as "The Voice of the Divine Dragon". She is said to be tremendously powerful and that, if she were to degenerate, the humans from Archanea would be erradicated. To protect the human race from her power, Naga sent Tiki on a state of slumber to surpress her powers.
In M.U.G.E.N, Tiki has been made once by UJI.
UJI's version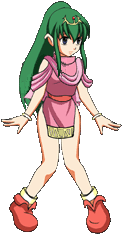 Tiki plays as a rather unique character. One of her Special moves and the Super Mist Breath can hit the enemy even if he\she is knocked down. The other Super Divine Dragon Stone will inhale the opponent, if the oppenent reaches Tiki, a battle scene like in Mystery of the Emblem will begin. During this Super, she has a 5% chance of missing, and a 10% of scoring a critical hit. Her Helpers are Marth, Caeda, and Draug. They each have a lifebar. If the lifebar of a character is dropped down to zero, that helper will die and Tiki will not be able to call for that character's help for the rest of the match. Her A.I. is quite brutal.
Stats
Movelist
Hovering the mouse cursor over the Command Input icons will display text that refers to the inputs set in M.U.G.E.N's Key Config.
Icons encased in square brackets [

] require the respective button(s) to be held down. Hovering the mouse cursor over the icon displays the hold duration if applicable.
Palette Gallery
| | | |
| --- | --- | --- |
| | | |
| Tiki | Fa (Fae's Colors) | Myrrh (Myrrh's Colors) |
| | | |
| Yumina (Yuliya's Colors) | Katua (Catria's Colors) | Ira (Ayra's Colors) |
Videos