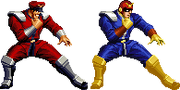 A
sprite edit
(also known as a
headswap
and not to be confused with
spriteswap
) is a character that uses another character's spritesheet, but edited to look more like the character at hand.
Sprite edits are common when making characters that look similar to other characters, whether it be that they are both muscular, wear similar clothing, or have a similar body shape.
Although sprite edits generally have similar sprites to another character, the actual coding and gameplay can differ quite greatly, making sprite edits more respectable amongst the M.U.G.E.N community than spriteswaps.
Examples
Perhaps the most notable example, Ryu and Ken (and later, Akuma, Dan Hibiki, Sean, among others) use the same body and gi (save for the colors) with different heads.
Original Zero, the midboss of The King of Fighters 2001, is a literal headswap of Clone Zero, the final boss of The King of Fighters 2000.
SVC Balrog is a sprite edit of Heavy D! from KOF 98.
Chuck Norris is a sprite edit of Joseph Joestar.
Most Robot Masters, like Cut Man, Crash Man and Shadow Man, use Mega Man as a base.
Old Daniel is a common base for human OC characters, with notable examples being Adam, Matías and Yuranto.
Kamekaze's Captain Falcon is a sprite edit of M. Bison from SNK vs. Capcom: SVC Chaos.
Dee Bee Kaw is a sprite edit of Big Eli King.
Omega Adolf Hitler and Barack Obama are small sprite edits of Omega Tom Hanks.
Donald McDonald is a sprite edit of both Dio Brando and Shadow DIO.
KON's Eirin Yagokoro is a sprite edit of Minagi Tohno from Eternal Fighter Zero.
Randy's Sportacus is a sprite edit of Terry Bogard.
Randy's Robbie Rotten is a sprite edit of Young Geese.
Ad blocker interference detected!
Wikia is a free-to-use site that makes money from advertising. We have a modified experience for viewers using ad blockers

Wikia is not accessible if you've made further modifications. Remove the custom ad blocker rule(s) and the page will load as expected.