Soundwave



Creator(s)

Omega Supreme

Download

Origin

Transformers
Soundwave is an decepticon from the Transformers series. He transforms into a cassette player and stores several smaller transformers that take the form of cassettes, named Laserbeak, Buzzsaw, Ravage, Ratbat, Rumble and Frenzy.
Soundwave is the loyal second hand man to Megatron. This loyalty to Megatron has made Soundwave hated among his fellow decepticons. As stoic as he is depicted, he has a father-son relationship with his cassettes. He is most known for his eighties cartoon appearance where he was voiced by Frank Welker with a vocoder. Recently, in Transformers Prime, he was depicted as mute. He lead the decepticons at one point in the Transformers Marvel comics.
In M.U.G.E.N, Soundwave has been created by Omega Supreme and is based on the Soundwave from the Original (Or G1) run of Transformers.
Gameplay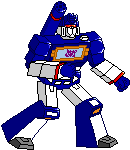 Omega Supreme's Soundwave is an edit of Kung Fu Man that uses four buttons. He has high stats that makes it tough for an average mugen character to take him down. His Blackout Ultrasonic, if spammed, can be an Infinite.
Stats
Movelist
Hovering the mouse cursor over the Command Input icons will display text that refers to the inputs set in M.U.G.E.N's Key Config.
Icons encased in square brackets [

] require the respective button(s) to be held down. Hovering the mouse cursor over the icon displays the hold duration if applicable.
Specials
Name
Command Input
Properties
Name
Command Input
Properties

| | | |
| --- | --- | --- |
| Rumble Ramming | | |
Name
Command Input
Properties

| | | |
| --- | --- | --- |
| Frenzy Kicking | | |
Name
Command Input
Properties

| | | |
| --- | --- | --- |
| Ratbat | | |
Name
Command Input
Properties

| | | |
| --- | --- | --- |
| Ravage | | |
Name
Command Input
Properties

| | | |
| --- | --- | --- |
| Laserbeak | | |
Name
Command Input
Properties

| | | |
| --- | --- | --- |
| Buzzsaw | | |
Hypers
Name
Command Input
Properties

| | | |
| --- | --- | --- |
| Cluster Ultrasonic | or | Uses 1000 power |
Name
Command Input
Properties

| | | |
| --- | --- | --- |
| Crack the Shell | or | Uses 1000 power |
Name
Command Input
Properties

| | | |
| --- | --- | --- |
| Casette Warriors Infestation | or | Uses 2000 power |
Name
Command Input
Properties

| | | |
| --- | --- | --- |
| Infrasonic Shock | or | Uses 3000 power |
Palette Gallery
| | | |
| --- | --- | --- |
| | | |
| Default | Soundblaster | Purple |
| | | |
| Autobot Blaster | | |
Videos