Released on late April Fools 2017, this character finally makes MUGENites able to express their dislikes on Sonic '06. Being a punching bag, it is completely incapable of performing any actions at all, including moving.
Sonic '06 (

Sonic the Hedgehog (2006)

)



Creator

Download

Resolution

HD
Gameplay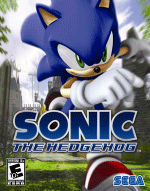 Sonic '06 is a punching bag, meaning there is no gameplay for this character to speak of. It has its ability to move disabled and does not have any attacks or other actions programmed in, so the player is unable to control it. Being a punching bag, winning a fight is impossible with it unless the F1 key is used or it has a simuls mode partner that can attack.
On a technicality, Sonic '06 has no custom A.I. and thus uses the engine's default, though the character's inherent inability to do anything also prevents the A.I. from performing any actions.
Stats
Movelist
This character does not have any Special or Hyper Attacks.
Palette Gallery
Victory quotes
This character does not have any victory quotes, meaning it uses the screenpack's default.
Videos
Edits
This character has been edited. For a full list of edits, see Edits.