Sonic the Hedgehog, commonly referred to as Sonic the Hedgehog (2006) and Sonic '06, is a 2006 reboot of the Sonic the Hedgehog franchise, celebrating the series' 15th anniversary.
The game was developed by Sonic Team and published by Sega for the Xbox 360 and PlayStation 3. Because of development issues, the game suffered from multiple issues, including gameplay glitches, long loading times and a complicated plot. The game is often considered one of the worst Sonic games ever made.
In M.U.G.E.N, Sonic the Hedgehog (2006) has been made by Superteletubbies64 as a punching bag, released on April Fools 2017.
Superteletubbies64's version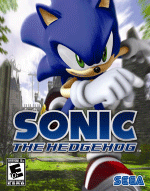 Released on late April Fools 2017, this character finally makes MUGENites able to express their dislikes on Sonic '06. Being a punching bag, it is completely incapable of performing any actions at all, including moving.
Ad blocker interference detected!
Wikia is a free-to-use site that makes money from advertising. We have a modified experience for viewers using ad blockers

Wikia is not accessible if you've made further modifications. Remove the custom ad blocker rule(s) and the page will load as expected.