This version of Snorlax has impressive bulk and highly damaging attacks, thought these attributes come at a hefty price, its movement speed is painfully slow, and its attack speed isn't much better; if it does end up falling asleep, be thankful that you don't need a Poké Flute to wake it up again.
Snorlax (

Snorlax

)



Creator

Download

Resolution

High
Gameplay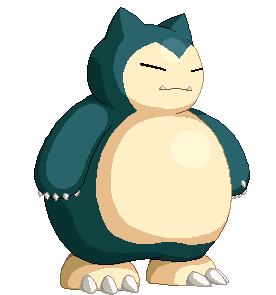 Snorlax is a six-button character that primarily functions as a four-button character in similar vein to Ðshiznetz's other Pokémon characters, although (Z)

gets a small amount of mileage due to it being used on its own for a throw, in conjuction with (C)

for Snorlax's helpers and in conjunction with
to activate MeeleHyper lv3 [sic]. Snorlax has a helper select at the beginning of each round that determines which helper will assist it during that round, or an option to add 1000 Power to the meter.
Snorlax stays true to its counterpart in Pokémon Type: Wild in the sense that it functions somewhat like a grappler character, having higher Attack and Defence stats than the average character on top of some powerful attacks; to balance this out, Snorlax attacks relatively slowly, having noticable startup and cooldown times for even its regular attacks as well as extremely slow mobility and a practically non-existent backwards hop. Snorlax has very limited combo ability, only being able to pull off a 2 or 3-hit combo at best, though these combos are usually enough to take a significant portion of the opponent's life anyway.
Snorlax does not have custom A.I., so it uses the default A.I. provided by the M.U.G.E.N engine. Snorlax tends to block quite frequently, which in combination with Snorlax's elevated Defence stat, makes for slightly more drawn out battles; while the default A.I. doesn't pose too much of an offensive challenge, if Snorlax is able to successfully land a hit on another character, then it's going to leave a mark.
Stats
Movelist
Hovering the mouse cursor over the Command Input icons will display text that refers to the inputs set in M.U.G.E.N's Key Config.
Icons encased in square brackets [

] require the respective button(s) to be held down. Hovering the mouse cursor over the icon displays the hold duration if applicable.
Specials
Name
Command Input
Properties
Name
Command Input
Properties
Name
Command Input
Properties
Name
Command Input
Properties
Name
Command Input
Properties

MeeleHyper lv2 [

sic

]

uses 2000 Power
Hypers
Name
Command Input
Properties

| | | |
| --- | --- | --- |
| Hyperbeam | + | Uses 2000 Power |
Others
Name
Command Input
Properties

Rest
+
Restores 500 Life
Life must be less that 500
Uses 3000 Power
Name
Command Input
Properties

Charge
[ + ]
Gradually increases Power while held
Power must be less than 3000
Name
Command Input
Properties

| | | |
| --- | --- | --- |
| roll/dodge | + | [ ] during input to dodge backwards |

[ ]
Palette Gallery
Videos
Edits
This character has not been edited.