Snorlax is a Normal-type Pokémon from the Pokémon series. It is the final evolution of Munchlax, and it appears at #143 in both the Kanto and National Pokédexes.
Snorlax is notorious for its immense size, appetite, and laziness; it will generally spend at least a month sleeping, surviving on any fat stores they have. When awakened uprubtly, Snorlax can become incredibly grouchy, despite it being a relatively docile Pokémon.
In M.U.G.E.N, a Snorlax character has been made by Ðshiznetz, and much like his other Pokémon characters, Snorlax's sprites and animations were ripped from the Pokémon fighting game, Pokémon Type: Wild.
Ðshiznetz's version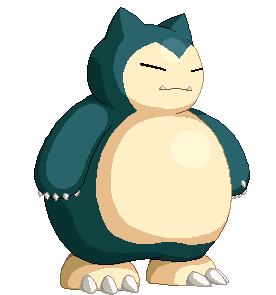 This version of Snorlax has impressive bulk and highly damaging attacks, thought these attributes come at a hefty price, its movement speed is painfully slow, and its attack speed isn't much better; if it does end up falling asleep, be thankful that you don't need a Poké Flute to wake it up again.