Shockwave



Creator(s)

Omega Supreme

Download

Origin

Transformers
Shockwave is an evil decepticon from the Transformers series. His mind runs entirely on logic, seeing emotions as pointless and ultimately as a weakness. He transforms into a flying ray gun that, unlike Megatron, is not the size of a normal gun.
His portrayal has varied greatly in fiction. In the eighties cartoon, he was a bumbling, yet loyal henchman. In the 80's Marvel Comics, he was a cold and powerful monster, being able to take over the decepticons and defeat Megatron. In the games, Transformers: War for Cybertron and Transformers: Fall of Cybertron, he was a sadistic scientist who gave the dinobots their alt forms via cruel experiments, leading to his downfall.
In M.U.G.E.N, Shockwave has been made once by Omega Supreme.
Gameplay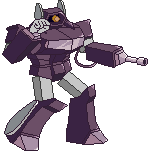 This char has several similarities to Omega Supreme's other transformers chars: incredibly high stats, being a Kung Fu Man edit, using four buttons and having only one EX move. All of his special moves involve projectiles.
Stats
Movelist
Hovering the mouse cursor over the Command Input icons will display text that refers to the inputs set in M.U.G.E.N's Key Config.
Icons encased in square brackets [

] require the respective button(s) to be held down. Hovering the mouse cursor over the icon displays the hold duration if applicable.
Specials
Name
Command Input
Properties

Laser Ball
or
+ For EX version

for a slow projectile
for a fast projectile
EX version uses 500 power
Name
Command Input
Properties

| | | |
| --- | --- | --- |
| To-Air Laser Ball | or | launches fireball further to the right |
Name
Command Input
Properties

Wentdown Laser Ball
or

for a slow projectile
for a fast projectile
Name
Command Input
Properties

Air Laser Ball
or

for a slow projectile
for a fast projectile
Name
Command Input
Properties

| | | |
| --- | --- | --- |
| To-Surface Laser Ball | or | launches fireball further to the right |
Hypers
Name
Command Input
Properties

| | | |
| --- | --- | --- |
| Continuous Laser Balls | or | Uses 1000 power |
Name
Command Input
Properties

| | | |
| --- | --- | --- |
| Rain-On Laser Balls | Unknown | Uses 1000 power |
Name
Command Input
Properties

| | | |
| --- | --- | --- |
| Carpet Bomb | or | Uses 2000 power |
Name
Command Input
Properties

| | | |
| --- | --- | --- |
| Wall of Laser Balls | or | Uses 2000 power |
Name
Command Input
Properties

| | | |
| --- | --- | --- |
| Super Shocklight Ball | or | Uses 3000 power |
Palette Gallery
| | | |
| --- | --- | --- |
| | | |
| Shockwave1 | Shockwave2 | Shockwave3 |
| | | |
| Shockwave4 | | |
Videos