Shannon



Creator(s)

SXVector

Download

Origin

Legend of the Golden Witch
Shannon is a character from Legend of the Golden Witch. She is one of the servants of the Ushiromiya family on Rokkenjima Island. She is 16 years old and is described as a sweet and pleasant woman who is clumsy, yet a hard worker. She is also loyal to the family and has feelings for George Ushiromiya, the son of Hideyoshi and Eva Ushiromiya.   
In M.U.G.E.N, Shannon has been made once by Sxvector. 
Gameplay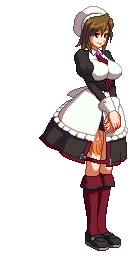 Shannon has a  passive A.I. and does not attack so often. She frequently blocks and moves around. Nonetheless, Shannon is 4 buttoned character and she has the potential to be a fun character to play. Her moveset mostly consists of  slaps, clothes, various kitchenware, servantly manners, and a mirror. She has the capability of using electricity and has seagull as a striker. 
Stats
Movelist
Hovering the mouse cursor over the Command Input icons will display text that refers to the inputs set in M.U.G.E.N's Key Config.
Icons encased in square brackets [

] require the respective button(s) to be held down. Hovering the mouse cursor over the icon displays the hold duration if applicable.
Palette Gallery
| | | |
| --- | --- | --- |
| | | |
| Shannon1 (Original colors) | Shannon2 | Shannon3 |
| | | |
| Shannon4 | Shannon5 | Shannon6 |
Videos