HOLD ON!
There are versions of this character available that don't have their own branch articles!
Please help us document the following:

Zolagun's version
Kong's version
3ha's version
Rel's version
Wild Tengu's version
Felicity's version
The Sentinels are a fictional variety of mutant-hunting robots, appearing in the Marvel Comics Universe. They are usually portrayed as antagonists to the X-Men. Created by Stan Lee and Jack Kirby, they first appeared in The X-Men, (vol. 1) #14 in November 1965.
Sentinel first fighting game appearence started in X-Men, Children of the Atoms, and he continues to appear along Marvel vs Capcom 2 and Marvel vs Capcom 3 and over.
Gameplay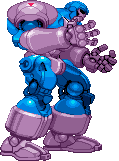 This mutant-hunting robot operates on a healthy fusion of its appearances in X-Men: Children of the Atom and Marvel vs. Capcom 2 with tons of fancy effects.
Videos
Ad blocker interference detected!
Wikia is a free-to-use site that makes money from advertising. We have a modified experience for viewers using ad blockers

Wikia is not accessible if you've made further modifications. Remove the custom ad blocker rule(s) and the page will load as expected.