Sentinel
Talk

0
4,461pages on
this wiki
Sentinel

Artwork from

Creator(s)

Xslaught,

Download

Origin

X-Men

The Sentinels are a fictional variety of mutant-hunting robots, appearing in the Marvel Comics Universe. They are usually portrayed as antagonists to the X-Men. Created by Stan Lee and Jack Kirby, they first appeared in The X-Men, (vol. 1) #14 in November 1965.
Sentinel first fighting game appearence started in X-Men, Children of the Atoms, and he continues to appear along Marvel vs Capcom 2 and Marvel vs Capcom 3 and over.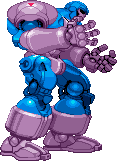 There are a couple minor issues with him, but that does not take away from the enjoyment of this character. The readme.def is a little bit lacking, as some commands were not thoroughly explained. The thing that stands out the most will only hit those of weak AI, as he is so large he can lag a little, due to some effects thrown in the file. Nonetheless, it's considered fun to play with.
Life: 1000
Power: 3000
Attack: 100
Defence: 135
Hovering the mouse cursor over the icons will display a more direct activation method akin to how the move activations are coded; this is what the following key/legend represents.
Key
D = Down
F = Right
B = Left
U = Up
DF = Down-right
DB = Down-left
UF = Up-right
UB = Up-left
a/b/c = Kick
x/y/z = Punch
s = Taunt
Icons encased in square brackets [
] mean for the respective button(s) to be held down.
Name
Command Input
Properties

Rocket Punch

ver hits
hits down
hits forward
hits upwards
[click to show animation][click to hide animation]
Name
Command Input
Properties

| | | |
| --- | --- | --- |
| Sentinel Force | | |
[click to show animation][click to hide animation]
Name
Command Input
Properties
[click to show animation][click to hide animation]
Name
Command Input
Properties

| | | |
| --- | --- | --- |
| Grab | | Only hits downed opponents |
[click to show animation][click to hide animation]
Name
Command Input
Properties

| | | |
| --- | --- | --- |
| Plasma Storm (XCOTA) | + | Uses 1000 power |
[click to show animation][click to hide animation]
Name
Command Input
Properties

Plasma Storm (MVC2)
+
+
Uses 1000 power
[click to show animation][click to hide animation]
Name
Command Input
Properties

| | | |
| --- | --- | --- |
| Hyper Sentinel Force | | Uses 1000 power |
[click to show animation][click to hide animation]
Name
Command Input
Properties

| | | |
| --- | --- | --- |
| Hard Drive | | Uses 1000 power |
[click to show animation][click to hide animation]
Palette GalleryEdit