Saku



Creator(s)

Lates

Download

Origin

Edit
Saku is an edit of Sakuya Izayoi by Lates.
With a red and black palette and a mechanic based around cards that fly around, Saku has very dangerous melee and projectiles that can almost instantly punish any character's mistakes and keep going from there. The A.I. is also very well programmed, and uses the cards very effectively.
Lates's version

To be able to play Saku properly, players need to know how to utilise the Card mechanic that affects many of her moves, alongside how to deploy the cards and knives for maximum damage.
Unlike most of Lates' characters, there is no traditional 12th palette mode on this one.
The Card System
Lates has a habit of adding unique mechanics to his characters, and Saku has a simple, but interesting one. When Saku is loaded, the following Card Meter will appear in the bottom left hand corner (bottom right if second player):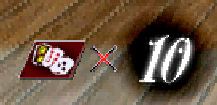 You start with 10 cards at the start of every round. Certain special moves and her Exceed will consume 1 card. When the cards are depleted, you can't use these moves.
Cards are reloaded with (S)

. The animation takes a while, so getting a knockdown or stunning the opponent before reloading is helpful.
Stats
Movelist
Hovering the mouse cursor over the Command Input icons will display text that refers to the inputs set in M.U.G.E.N's Key Config.
Icons encased in square brackets [

] require the respective button(s) to be held down. Hovering the mouse cursor over the icon displays the hold duration if applicable.
Specials
Moves with an asterisk (*) use one card.
(C)

: Knife Toss (air-usable)
(A)

,
(A)

,
(B)

: Rekka Attack

(B)

: Somersault Kick (air-usable)
Hypers

(Y)

: Reversal Slashes (2 stock)


(Y)

: Trump Card: Blink (2 stock + 1 card)
Videos