Rosa Ushiromiya



Creator(s)

Barai

Download

Origin

Legend of the Golden Witch
Rosa Ushiromiya is a character that appears in Legend of the Golden Witch. She is the youngest child of Kinzo Ushiromiya and is the mother of Maria Ushiromiya. She has a strained relationship with her daughter since her husband abandoned them. She has a debt to pay off and works long hours in order to do so. Due to a misunderstanding, Maria ends up thinking that Rosa's small vacations involve her going with a boyfriend and it is false. This is caused by a receipt that was discovered by Maria. Rosa went to a hotel in order discuss the distribution of the gold with her siblings and never wanted Maria to be involved. Rosa hopes that Maria's father comes back in order to recouncile the hardship of the past.     
In M.U.G.E.N, Rosa Ushiromiya has been made once by Barai. 
Gameplay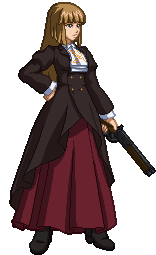 Rosa has a fair AI and is not as competitive as Kung Fu Man. She is a melee oriented character with a shotgun. She has a few fatal supers. One of them involves hitting the opponent with a gold bar and the others involve fatal shotgun blasts and few melee oriented ones as well. She has two strikers and one of them is Remilia Scarlet and the other one is Sakuya from the Touhou Project.
Stats
Movelist
Hovering the mouse cursor over the Command Input icons will display text that refers to the inputs set in M.U.G.E.N's Key Config.
Icons encased in square brackets [

] require the respective button(s) to be held down. Hovering the mouse cursor over the icon displays the hold duration if applicable.
Palette Gallery
| | | |
| --- | --- | --- |
| | | |
| Rosa_1P (Original Colors) | Rosa_2P | |
Videos