Ronove



Creator(s)

Sxvector
Boomer

Download

Origin

Banquet of the Golden Witch
Ronove is a high ranking demon from the 72 Pillars that is well known among the witches for being a proficent butler. He can be hired by them at a price and is adept at cleaning households and baking cookies. He is also powerful and has potential in battle even though his abilities are yet to be seen.   
In M.U.G.E.N, Ronove has been made two times by Boomer and Sxvector. 
Gameplay (Boomer)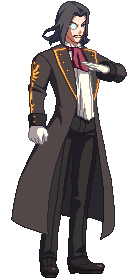 Ronove has a strong, witty, and agile AI in battle and will not hesitate to use his specials and supers. He is recommended for intermidiate players His moveset consists of kicks, offensive rose themed magic, counters and a super which transforms him into a demon, and two other supers. When kicking, he can juggle the opponent in order to dish a hefty amount of damage.   
Stats
Movelist
Hovering the mouse cursor over the Command Input icons will display text that refers to the inputs set in M.U.G.E.N's Key Config.
Icons encased in square brackets [

] require the respective button(s) to be held down. Hovering the mouse cursor over the icon displays the hold duration if applicable.
Palette Gallery
| | | |
| --- | --- | --- |
| | | |
| RONOVE01 (Original Colors) | RONOVE02 | RONOVE03 |
| | | |
| RONOVE04 | RONOVE05 | |
Videos
Ad blocker interference detected!
Wikia is a free-to-use site that makes money from advertising. We have a modified experience for viewers using ad blockers

Wikia is not accessible if you've made further modifications. Remove the custom ad blocker rule(s) and the page will load as expected.