Rion



Creator(s)

OGko OGwo

Download

Origin

Original
Rion is a lion doll created by OGko OGwo using images cut out from the real doll.
Gameplay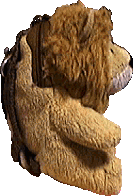 Rion is a character that has become infamous in the M.U.G.E.N community due to his broken nature. He uses a variety of attacks, from characters such as Abe, Zangief, and a few others. His main methods of attacking are grappling, strikers and teleporting. The character is considered cheap due to the ability of having both of his strikers being summonable at once with both being able to eat the opponents attacks instead of hitting both the strikers and Rion, combined with being able to easily knock you out of defense due to his teleportation makes them virtually impossible to win against without resorting to extremely broken tactics. His A.I. becomes stronger in his 11th and 12th palettes.
Stats
Movelist
Hovering the mouse cursor over the Command Input icons will display text that refers to the inputs set in M.U.G.E.N's Key Config.
Icons encased in square brackets [

] require the respective button(s) to be held down. Hovering the mouse cursor over the icon displays the hold duration if applicable.
Specials
Name
Command Input
Properties

| | | |
| --- | --- | --- |
| Screw Command | or | |
Name
Command Input
Properties
Name
Command Input
Properties

| | | |
| --- | --- | --- |
| Screw Pile Driver (Slow) | // | |
Name
Command Input
Properties

| | | |
| --- | --- | --- |
| Double Lariat | / | |
Name
Command Input
Properties
Name
Command Input
Properties

| | | |
| --- | --- | --- |
| Domo-kun beam | | |
Name
Command Input
Properties

| | | |
| --- | --- | --- |
| Shirokuma Hold | | |
Videos