Red Dragon



Creator(s)

Doggiedoo

Download

Origin

Dungeons & Dragons
Red Dragon is a giant dragon from Capcom's Dungeons and Dragons: Tower of Doom and its sequel Dungeons and Dragons: Shadow over Mystara. In both games, the Red Dragon (also called Flamewing in Tower of Doom) was an optional superboss you could fight about halfway through the game.
Red Dragon has been converted to M.U.G.E.N by Doggiedoo. It plays much like the boss-fight from Shadow over Mystara and is big enough to take up most of the screen's space.
Doggiedoo's version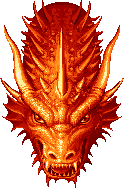 Red Dragon is a giant boss character, like Abyss, Onslaught and Apocalypse. It is best used as a CPU opponent for Arcade and such, but it is not recommended for Watch mode because many of its attacks are unblockable and A.I.s won't know how to evade them. Its weak spot is its head, so characters with strong air attacks will be able to defeat the dragon easily. Its hands can be controlled by the different sides of the keys used to attack (i.e., the left-most attack keys - a and x - will control the left arm, and the right-most keys - c and z - will control the right arm. The middle keys, b and y, generally control the head).
This character comes with a config.txt file to tell the A.I. how frequently the character should use its three one-hit KO attacks: either when it gets low on health, right after recovering from being stunned, or randomly at any time (but much less frequently than it would under the other two settings). The config.txt file also controls the dragon's aggressiveness (i.e., how frequently it attacks in general), whether it has a special lifebar at the bottom of the screen, how many skeletons it can summon at once, how much life each skeleton has, how far the fire spheres attack travels along the ground, how much damage it takes before getting stunned, how long the stun lasts, and how quickly the invisible stun gauge recovers when it's not being attacked.
Stats
Movelist
Hovering the mouse cursor over the Command Input icons will display text that refers to the inputs set in M.U.G.E.N's Key Config.
Icons encased in square brackets [

] require the respective button(s) to be held down. Hovering the mouse cursor over the icon displays the hold duration if applicable.
Attacks
Name
Command Input
Properties
Name
Command Input
Properties
Name
Command Input
Properties
Name
Command Input
Properties
Name
Command Input
Properties

| | | |
| --- | --- | --- |
| Devour | | |
Name
Command Input
Properties
Name
Command Input
Properties
Name
Command Input
Properties
Name
Command Input
Properties
Name
Command Input
Properties

| | | |
| --- | --- | --- |
| Undead Summoning | | |
Name
Command Input
Properties
Name
Command Input
Properties
Name
Command Input
Properties
Videos