Ragna the Bloodedge is a character that first appears in BlazBlue: Calamity Trigger. He is one of the main protagonists in the game. He is an enemy of the Novus Orbis Librarium, an imperialistic organization that utilizes the Ars Magus, a mixture of magic and technology. He is also an SS ranked criminal and is wanted by the Librarium since he is responsible for destroying many of their branches. He wields the Azure Grimoire, a powerful device that can channel energy from the Boundary, another dimension known to be connected with various timelines in the game. Ragna houses the powers of the Black Beast, the one responsible for killing half the population of the world. Since he is a criminal, he is hunted by other characters in the series. In the past, he was bitten by Rachel Alucard when he was a boy.
In M.U.G.E.N, Ragna the Bloodedge has been made 3 times by Jeff Loco, Speedy9199 and Devilpp.
Jeff Loco's version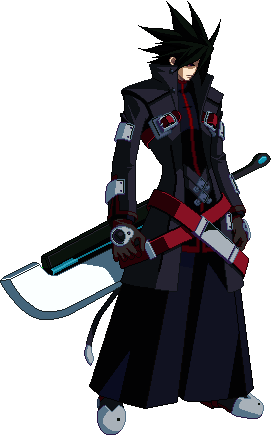 This is one of the earlier versions of Ragna made. This character is not source accurate but has moves found in the source game. It uses Guilty Gear sound effects but does not use any from "BlazBlue" and it does not have any type of hit sparks.
Speedy9199's version
This version of Ragna's A.I. can utlize his rapid specials if there is enough power. The A.I. takes a few seconds to boot and becomes a fast paced A.I. that will rapidly attack at a fast rate. He is a slow moving character but in order to compensate for this, as mentioned before he can use his specials which are rapid and can pin the enemy for a few moments if done correctly.
Stats
Videos