Pyramid Head



Creator(s)

HBKStasyan
Drac x

Download

Origin

Silent Hill
Pyramid Head is a recurring enemy and character in the Silent Hill series of games, appearing in almost every one of the games since Silent Hill 2 in at least a cameo appearance and appearing in two film iterations of the series. He is an executioner dressed in a dress or butcher's smock with an enormous, rusty iron helmet in the shape of a pyramid, which is where his name comes from. His primary weapon is an incredibly oversized chef or butcher's knife, which has also made numerous appearances in the games. In Silent Hill 2, he is a manifestation of the main character's subconscious. Another name for this creature is Red Pyramid Thing, although Pyramid Head is more commonly accepted and used.
In M.U.G.E.N, Pyramid Head has been made twice: Once by HBKStasyan, and again by Drac x.
HBKStasyan's version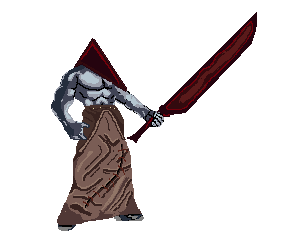 This version is of fairly poor quality in terms of sprites and gameplay. Even though they are a 6-button character, they have very little attacks, sub-par spritework, and are very overpowered, with their only super/hyper costing 1000 power and dealing more than half of an ordinary character's life. Their collision is also extremely inconsistent at times.
This version's AI is very weak.
Stats
Drac x's version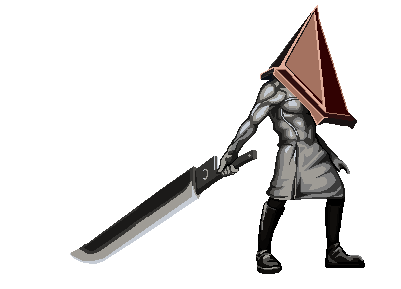 Even though this version seems to have more potential at first glance due to the high resolution sprites used in his idle animation, a quick investigation reveals that this version is arguably of even lower quality or perhaps in an extremely unfinished and early state., with all of the sprites, excluding their idle and walk animations actually being extremely lazily made with a monochrome color scheme. Their gameplay is similarly broken and barebones, with most of their attacks being supers/hypers, and the ones that aren't being extremely long-range, with one essentially spewing multiple damage hitboxes across the screen in a random fashion for a short time.
This version has weak/default AI, but also has armor which prevents them from flinching or being knocked down, futher cementing the fact that this was at one point intended to be a boss character, but perhaps abandoned before even the basics were fully planned.
Videos