Princess Fine



Creator(s)

Zzyzzyxx

Download

Origin

Fushigi Boshi No Futago Hime Gyu
Princess Fine is a character appearing in Fushigi Boshi no Futago Hime Gyu! as a main protagonist, She is a princess from the Mysterious Star who attended as a student in the Royal Wonder Academy. There, Princess Fine and her sister Rein became Universal Princess after touching the Royal Academy bell and received two fairies who are the source of their powers. Later they fought Edward who was a evil spirit attempting to bring unhappiness to the academy members.
During the final battle with Edward, Fine and Rein became Universal Princess and gained the necessary power to defeat the evil spirit. Later, Fine and Rein fought the princess of Dark Bibin who wanted to collect Unhappy Fruits by using the evil Unhappy Plants which suck the happiness of anyone who is nearby. However, Bibin turn against the Black Academy and the Black Principal and they find out the real enemy is the Black Crystal King who had used a decoy imposter in the first series.
In M.U.G.E.N, Princess Fine has been made by Zzyzzyxx.
Zzyzzyxx's version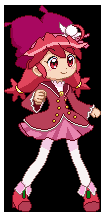 Princess Fine is a surprisingly powerful character. Despite the slightly clunky way her attacks connect, they are quick and powerful, with several of her Hypers having Rein appear to help her perform them before running off or simply vanishing. Fine is somewhat cheap due to the way she has a grab/throw that is executed using only one button and is easily spammed.
Princess Fine's A.I. is moderately challenging and does not abuse the problems evident in her grab/throw, but is still not to be underestimated. She favors completely avoiding attacks over actually blocking them before retaliating.
Stats
Movelist
Hovering the mouse cursor over the Command Input icons will display text that refers to the inputs set in M.U.G.E.N's Key Config.
Icons encased in square brackets [

] require the respective button(s) to be held down. Hovering the mouse cursor over the icon displays the hold duration if applicable.
Palette Gallery
Videos