Priecia



Creator(s)

IF

Download

Origin

Prism Ark
Priecia is from the Prism Ark series. She is thought to be a princess of Wind land because she wears the pormised pocketwatch of the king and queen. At the beginning when she enrolled in the school of knights she did not have many friends because of her arrogant attitude until she met Hyaweh and his friends. Her character is widely known throughout the school for her swordsmanship and beauty. Armed with her rapier Ruby Flash, which is approximately a foot shorter than her.
In M.U.G.E.N, Priecia has been made by IF.
IF's version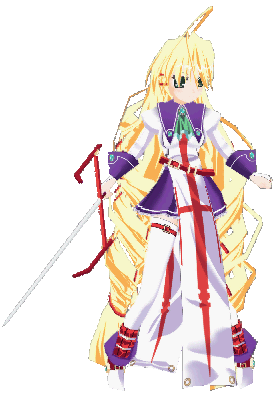 Priecia is a 4 button character mainly focusing in close combat. In M.U.G.E.N she is a slow moving character with a limited amount of combo attacks. Her A.I. is not too hard and easy to beat, any character with a decent projectile will be able to take her out. It is difficult to perform a decent combo with this character mainly because of the small cooldown time after each attack. She has only one Hyper attack which does average damage but it can be blocked resulting in no damage.
Stats
Movelist
Hovering the mouse cursor over the Command Input icons will display text that refers to the inputs set in M.U.G.E.N's Key Config.
Icons encased in square brackets [

] require the respective button(s) to be held down. Hovering the mouse cursor over the icon displays the hold duration if applicable.
Supers
Name
Command Input
Properties

| | | |
| --- | --- | --- |
| Ruby Flash Rush | | |
Name
Command Input
Properties

| | | |
| --- | --- | --- |
| Ruby Flash Uppercut | | |
Name
Command Input
Properties

| | | |
| --- | --- | --- |
| Ruby Flash Stab Flurry | | |
Hypers
Name
Command Input
Properties
Palette Gallery
Videos