The creator states that this Pikachu is Super Smash Bros. Brawl-styled, though this couldn't be further from the truth, with the only essence of such a game being its sprites. The character's moveset is very limited, with just nine moves at its disposal across only two buttons; four of these attacks become infinites when timed correctly and cover the entire width of the screen.
Pikachu (

Pikachu

)



Creator

Download

Resolution

Low
Gameplay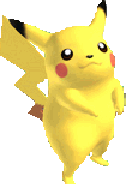 Pikachu is a six-button character that plays like a two-button character, with all buttons outside of (A)

and (X)

sending it into practically empty states that slightly fill up the Power meter and return it to its idle state. As Pikachu only uses two buttons, its gameplay is not only limited but also rather strange, where (A)

and (X)

fundamentally activate the same attacks, though (A)

attacks cover the width of the screen while (X)

attacks stays in place.
Although Pikachu's attacks aren't particularly powerful by themselves outside of its jumping (X)

, which can take out around half of the average character's Life depending on how tall they are, its most effective form of dealing damage is through the easy infinites that are activated merely by spamming the same button ((A)

) repeatedly at specific rates, with crouching (A)

being the easiest infinite. Outside of the jumping variants, (A)

and (X)

can be combo'd into each other indefinitely, though the timing is much more precise than just spamming (A)

on its own, making it less effective. Thundershock is also an easy infinite when spammed and is far safer to use than the regular attacks because it causes Pikachu to fire a large projectile as opposed to ramming into the opponent.
Pikachu is incredibly agile on the ground, with both its run and Backwards Hop effortlessly getting it from one side of the stage to the other; its aerial mobility is not quite as impressive, having fairly standard jump velocities, though as is the case with the ground versions, using (A)

in the air covers for the lack of aerial agility.
Given how little effort appears to have been put into the character, it's no surprise that Pikachu doesn't have a custom A.I., using the engine default instead. As M.U.G.E.N's default A.I. has no real concept of spamming the same attack repeatedly, it doesn't take advantage of the character's aforementioned infinites, making it a very unchallenging opponent.
Stats
Movelist
Hovering the mouse cursor over the Command Input icons will display text that refers to the inputs set in M.U.G.E.N's Key Config.
Icons encased in square brackets [

] require the respective button(s) to be held down. Hovering the mouse cursor over the icon displays the hold duration if applicable.
Specials
Name
Command Input
Properties
Others
Name
Command Input
Properties
Palette Gallery
Victory quotes
This character does not have any victory quotes, meaning it uses the screenpack's default.
Videos
Edits
This character has been edited. For a full list of edits, see Edits.