The only known hi-res Pikachu character, this version uses custom sprites and originates from a M.U.G.E.N-based full game known as Pokemon GT; the character doesn't translate well from said source game, however, so while it is a direct port, it can only attack other characters from Pokemon GT and is unable to deal damage to regular characters.
Pikachu (

Pikachu

)



Creator

Ghosteo

Download

Resolution

High
Gameplay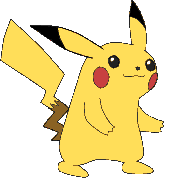 This particular Pikachu is a six-button character, but it doesn't have the standard three punches, three kicks layout, instead having a rather erratic button layout that changes depending on whether Pikachu is standing still, crouching, jumping or walking.
Though it is notable for being the only known hi-res Pikachu, it, like the other characters from Pokemon GT, cannot attack characters from outside said game. Hyper A (presumably intended to be Volt Tackle due to the recoil damage Pikachu takes), does actually make contact with the opponent, putting them into a hitstun, but it doesn't deal any damage; it is activated using
(A)
and uses 1000 Power, but requires at least 1001 Power. According to its portrait, Pikachu is a "Speed Type" character, though obviously under the balance of Pokemon GT.
Stats
Movelist
This character does not have any Special or Hyper Attacks.
Palette Gallery
Victory quotes
This character does not have any victory quotes, meaning it uses the screenpack's default.
Videos
Edits
This character has been edited. For a full list of edits, see Edits.
Ad blocker interference detected!
Wikia is a free-to-use site that makes money from advertising. We have a modified experience for viewers using ad blockers

Wikia is not accessible if you've made further modifications. Remove the custom ad blocker rule(s) and the page will load as expected.