HOLD ON!

There are file links on this page that are either broken or relying on an archived link. This applies to the following download link(s):

Please replace them with the latest working links!
HOLD ON!
There are versions of this character available that don't have their own branch articles!
Please help us document the following:
Omega Tiger Woods



Creator(s)

Various

Oldest version

Most_Mysterious' version (2005)

Newest version

Unknown

Origin

Original
Omega Tiger Woods is a very bizarre and overpowered character. Omega Tiger Wood's (OTW) head is an oversized, photoshopped picture of his face, with his mouth morphed to look like the Nike logo. His body, on the other hand, is a cartoon character's body.
In M.U.G.E.N, Omega Tiger Woods was first created by The None under his former alias of Most_Mysterious, and has been edited and remade by various creators since.
Most_Mysterious' version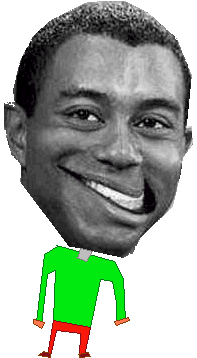 Back in the day, many would've considered Omega Tiger Woods to one of the cheapest characters around, and although times have changed and it doesn't quite compare to other cheap characters any more, this overpowered titan of a professional golfer has still gotta kick some ass.
Videos