Omega Shenron



Creator(s)

Gladiacloud
Rabani94

Download

Origin

Dragon Ball
Omega Shenron is the final major villan in "Dragon Ball GT". He is one of the shadow dragons that was created via a wish. In this case, he was created from the wish to revive all those killed from Frieza's rampage.
Originally known as Syn Shenron, his ability is to gain strength by absorbing the titular dragon balls (which is also how he gained his omega form). He doesn't have any elemental powers unlike his six other siblings, but makes up for it by simply being the strongest out of the shadow dragons, even in his base form.
In M.U.G.E.N, Omega Shenron has been created by Gladiacloud and Rabani94.
Gladiacloud's version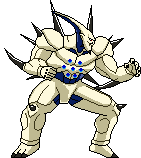 Gladiacloud's send off to the "Dragon Ball" universe consisted of this character. Being one of the most powerful characters in the source material, it can live up to its name in the hands of an experienced player.
Ad blocker interference detected!
Wikia is a free-to-use site that makes money from advertising. We have a modified experience for viewers using ad blockers

Wikia is not accessible if you've made further modifications. Remove the custom ad blocker rule(s) and the page will load as expected.