Nui Rama functions a bit like a boss character, having Super Armour, the ability to fly and a custom K.O. animation. Though it can't combo, it loves using its grab attack to drag you around the stage, so in that regard, it's just like an actual flying insect—annoying.
Nui Rama (

Nui-Rama

)



Creator

Download

Resolution

Low
Gameplay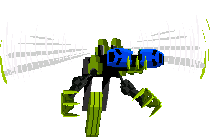 A slow and clunky character, Nui Rama is unable to chain attacks, relying on its Super Armour and flying ability to defeat its opponents, seeing as its damage output outside (Z)

is relatively average; because of this, it may have been intended to be a boss character.
Like Kozeni's Toa Mata character, Nui Rama makes use of all six attack buttons and is able to freely move around and attack before the round starts. Nui Rama also has a cheap 12th palette that instantly maxes out its Power, slowly regenerates its Life stat over time and doubles its Attack, allowing it to simple fly out of harm's reach and spam (Z)

repeatedly (seeing as (Z)

uses 1500 Power, it is not possible to do this with its other palettes).
In terms of A.I., it is not as cruel as Toa Mata's as it cannot combo its attacks, but is still somewhat aggressive. It tends to fly around the screen chasing the player as opposed to running away from them and has a tendency to grab the opponent using (Y)

most of the time, or using (Z)

should it have enough Power. Regardless, it is not an overly difficult character to defeat, made easier by the fact that the projectiles produced by (X)

can be deflected if blocked and tend to miss the opponent entirely at close-range.
Stats
Movelist
This character does not have any Special or Hyper Attacks.
Palette Gallery
| | | |
| --- | --- | --- |
| | | |
| NR2 | NR3 | NR4 |
| | | |
| NR1 | NR5 | NR6 |
| | | |
| NR7 | NR8 | NR9 |
| | | |
| NR10 | NR11 | NR12 |
NR12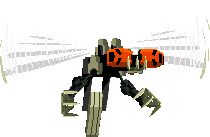 Many 12th palettes are cheap in some way, and Nui Rama's is no exception. While the palette's colour scheme is somewhat similar to palette 11's at a glance, the first noticeable sign of its cheapness is the maxed-out Power bar, though other features include the slow Life regeneration and doubled Attack; surprisingly, the boost in Attack does not affect its most powerful move, (Z)

. Another effect is an increased Defence multiplier, but because DefenceMulSet doesn't function properly, the boost in Defence doesn't take effect.
Victory quotes
This character does not have any victory quotes, meaning it uses the screenpack's default.
Videos
Edits
This character has not been edited.