Nu-13



Creator(s)

Neat Onsou

Download

Origin

BlazBlue: Calamity Trigger
Nu-13 is a character that first appears in BlazBlue: Calamity Trigger. She is a Murakumo Unit found near the Sheoul Gate and is the final boss of the first game. She is a clone of the Imperator of the NOL and Noel. Nu has a personality cold as steel when facing others but when she faces Ragna, her personality switches to a yandere.
In M.U.G.E.N, Nu-13 has been made once by Neat Onsou.
Note: The .sff file for Nu-13 is found in a separate zip file. Download and extract the character's zip file first and then extract the .sff into Nu-13's character folder. Do this to avoid an error.   
Gameplay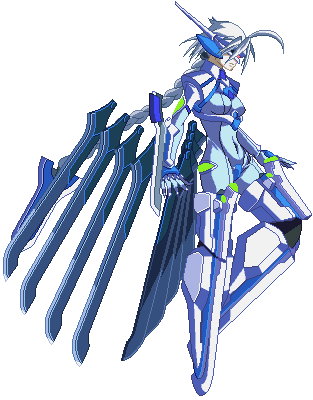 Nu-13 is a 4 buttoned character whose gameplay is similar to how she plays in BlazBlue: Calamity Trigger. Nu's moveset consists of ranged projectiles, a limited amount of melee attacks, and various fields meant to slow the player down. As a boss character, her A.I. will frequently make use her hypers and special. The means her A.I. has a small mercy limit and as a result, her life and power are reduced.
Stats
Hovering the mouse cursor over the Command Input icons will display text that refers to the inputs set in M.U.G.E.N's Key Config.
Icons encased in square brackets [

] require the respective button(s) to be held down. Hovering the mouse cursor over the icon displays the hold duration if applicable.
Specials
Name
Command Input
Properties

| | | |
| --- | --- | --- |
| Sickle Storm | or | |
Name
Command Input
Properties

| | | |
| --- | --- | --- |
| Spike Chaser | | |
Name
Command Input
Properties

| | | |
| --- | --- | --- |
| Gravity Shield | or | Slows down opponent |
Hypers
Name
Command Input
Properties

| | | |
| --- | --- | --- |
| Sword of Destruction | | Cost 2000 power |
Name
Command Input
Properties

| | | |
| --- | --- | --- |
| Legacy Edge | | Cost 1000 power |
Name
Command Input
Properties

| | | |
| --- | --- | --- |
| Calamity Sword | | Cost 1000 power |
Palette Gallery
Videos