Noroko
Talk

0
3,967pages on
this wiki
Noroko

Noroko's portrait

Creator(s)

Andrés Borghi

Download

Origin

The Black Heart

Noroko is one of the main characters from the MUGEN game, The Black Heart. She is a ghost who lies dormant within an ancient Japanese doll which is currently owned by an antique collector. When the king of the other world is murdered and his heart is ripped out, the power emanating from it was strong enough to awaken Noroko who escapes the doll and kills the collector. Noroko travels through the worlds searching for the heart currently in possetion by Final hoping its power can end her suffering and grudge. Noroko is available from the main game itself or for normal MUGEN versions in the link shown in the infobox.
Noroko's gameplay can be challenging to new players to MUGEN, however when you study her moves and learn how to sequence them together she can be a good player. Most of Noroko's moves has a ghost theme or something relating to Ancient Japan such as Japanese mask spirits projectiles or entering the players soul and violently beating it around the stage before returning it to their body. Some of her moves also have a creepy shocker effect like in some old horror movies such as pretending to be a crying girl before scaring her opponents to death or unhuman actions such as hands where her feet should be.
In Killer mode, she will place her spirit into the doll she was trapped in and will cause spirits to aid her against her opponents, the advantage of being in the doll is she becomes a smaller target to her opponents making it harder for them to hit her, the downsides to this however is that she can't use her other attacks until she leaves the doll.
While her natural speed is quite slow , p erhaps the best thing going for Noroko and what makes her so unique amongst the M.U.G.E.N. roster is her outstanding mobility, specially while in the air. FIrst off she will teleport to the other edge of the screen if backdashing against a corner,  allowing her one way to break free from getting pinned against the wall and almost always guaranteeing a sneak counterattack. Noroko can also double jump and perform an air dash, she can do this dash twice if she dashes before her double jump.
This aerial power  synergizes with her third and most important mobility skill: Snow woman. Upon performing this move, Noroko will flip upwards into the ceiling, knocking up  the opponent along with her. While up there, Noroko can choose to remain in the ceiling and crawl slowly along, drop down ,or lunge ether towards or away from the opponent, damaging them and tripping them over if it connects. The way this synergizes so well is the fact that she can do this move while in the air, granting her  huge amounts of aerial mobility and air combo potential. Take note though, while performing Snow Woman and while up in the ceiling, Noroko cannot block and is vulnerable to anti-aerial attacks and specially anti-air projectiles.
D = Down
R = Right
L = Left
DL = Down-left
DR = Down-right
P = Punch
K = Kick
(A) = Enter in Air
Special moves
Bloody end - D, DF, F, P

Okiku's cry - D, DB, B, P
Kwaidan - D, DF, F, K

Snow woman - F, DF, F, K (A)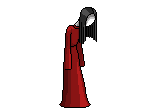 Super Moves
Emma-O mask - D, DF, F, PP (Requires 1 power bar)

Soul punishment - D, DF, F, KK (Requires 1 power bar)
Funeral - F, DF, F, KK (A) (Requires 1 power bar)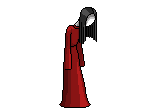 Deadly Move
Onryou - D, DB, B, PP (Requires 3 power bar + opponent health to 1/4 or less)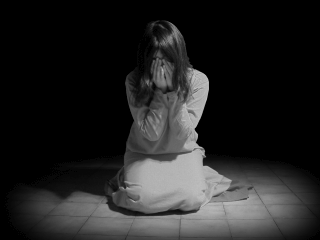 Killer Mode
Posession - P + K (Requires 2 power bars)